Charting a Path for Growth: Degenkolb's Regional Practice Area Leaders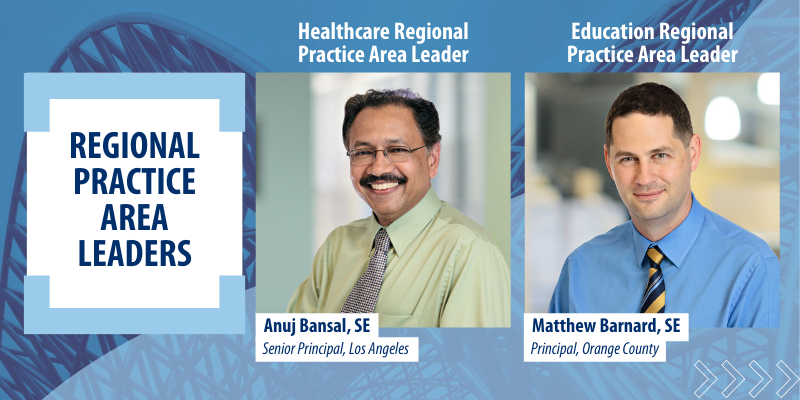 Degenkolb Engineers announces the formalization of Anuj Bansal, Senior Principal, and Matthew (Matt) Barnard, Principal, into the roles of Regional Practice Area Leaders for Degenkolb's Healthcare and Education practice areas respectively. The formal appointments reflect years of working informally in these roles. The Regional Practice Area Leader role designates someone in a region who in conjunction with the Practice Area Leader works to advance market goals and strategy firmwide. Both Anuj and Matt, as Regional Practice Area Leaders, serve the Southern California marketplace.
"Around 2018, we set a strategic goal to focus on developing work in the Education practice throughout Southern California. Matt's leadership has been a key reason for our success delivering on University of California and community college work in Southern California. We see formalizing this role to continue to grow our presence in the Education market and to develop future resources for our education clients," said Holly Razzano, Senior Principal, Education Practice Area Leader.
Jorn Halle, Senior Principal, Healthcare Practiced Area Leader said, "The Healthcare Regional Practice Area Leader title is recognition of the leading role that Anuj has in expanding the Healthcare Practice in Southern California. We can provide more in-depth service to our clients and deliver more complex projects regionally while leveraging firmwide experience and resources. Anuj has developed a highly technical and collaborative team in Southern California, focused on delivering healthcare projects."
As a Senior Principal in the Los Angeles office, Anuj Bansal skillfully manages complex projects for diverse clients, most notably in the Healthcare Practice Area. His collaborative management style enables him to deliver the most cost-effective and technologically sound solutions for new design and seismic retrofit projects.
Matt Barnard serves as a Principal in the Orange County office. His portfolio includes a wide range of experience, with a strong emphasis in the Education Practice Area. He is actively engaged in work for multiple campuses of the University of California and is focused on broadening the depth and reach of the practice.