Bridging the Gap from Past to Future: Jesus Orozco's Path to Engineering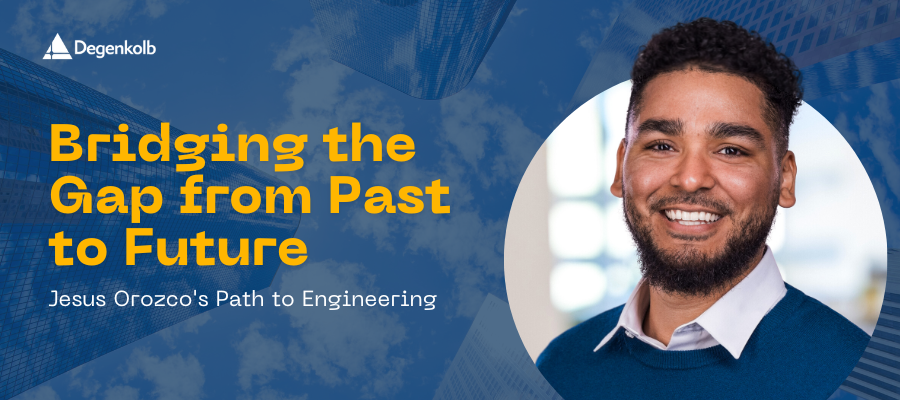 Not all engineers follow the path of primary school to college—to their profession. Some like Degenkolb Designer, Jesus Orozco, followed a nontraditional route. Jesus joined the firm full-time in July 2022, but his first introduction to the world of engineering and Degenkolb happened more than 15 years ago when he was in the 11th-grade class at Miguel Contreras School of Global Studies in Los Angeles, CA.
Degenkolb's Matt Barnard and Adam-Hugo Holman visited his class as part of the ACE Mentor Program of America (ACE), a national afterschool program that engages students in the field of Architecture, Construction, and Engineering (AEC) as well as skilled trades. The program is driven by volunteer mentors—practicing AEC professionals—who introduce students to their respective fields and support enrichment activities such as projects, speaker presentations, and field trips. "I remember during that first meeting Matt said, if you look around a city, everything has been engineered in one way or another—down to where the trees were planted. That it's all been decided by someone at some point." Jesus, then 16-years-old, was intrigued. "I wanted to learn more."
Jesus was raised in Los Angeles' Koreatown neighborhood in a family of immigrants: his father, an immigrant from Mexico, and mother, an immigrant from El Salvador. His community was widely blue-collar, and he was not uncommon as a would-be first-generation college student." We're always told to 'dream big, dream big' but there's always something in you that says, you know, that's not for me. That's for someone else—for someone that's affluent."
For Jesus, ACE was what bridged the gap between his dreams of becoming an engineer and making it a reality. The program not only exposed him to the AEC profession but helped him learn about the many different paths, backgrounds, and experiences of AEC professionals themselves. "ACE humanized these people. Yes, some of them came from affluent families and some of them didn't. I learned that everyone's path is different."
He was soon a regular at the after-school ACE programs, often rallying his friends to hop on the bus for 30-40 minutes to attend meetings at neighboring schools. Jesus stood out because of his dedication and enthusiasm for the program. Matt took notice, offering him a summer internship with Degenkolb Los Angeles as an office assistant during his senior year.
During his internship, LA office drafters, Agustin Huerta, Victor Ramirez, and Sal Hernandez, introduced Jesus to drafting and helped him develop his skills. He then went on to work as a drafter between Degenkolb and another firm for the next 10 years as he attended community college classes at night. After balancing his life as a student and a full-time drafter for a decade, Jesus was able to transfer to Cal Poly Pomona to study civil engineering followed by his Master's in Structural Engineering from the University of California, Los Angeles. Through this nearly 15-year journey, he had always remained in touch with Matt Barnard who had recently become an Office Director for Degenkolb's new Orange County office. It wasn't too long after graduation that he was once again employed full-time—this time as an engineer—with Degenkolb.
Jesus' nontraditional journey inspires him to give back to his community. "It was a personal goal of mine to go back and become a mentor." He adds that, "I'm actually able to go back to these communities and speak their language because I know exactly where they come from." Coming full circle, Jesus also graduated from ACE mentee to ACE mentor, volunteering with students in downtown Los Angeles and ready to pass the torch on to the engineers of tomorrow.