2022 BNP/ENR ACE Outstanding Mentor, Laura Basualdo!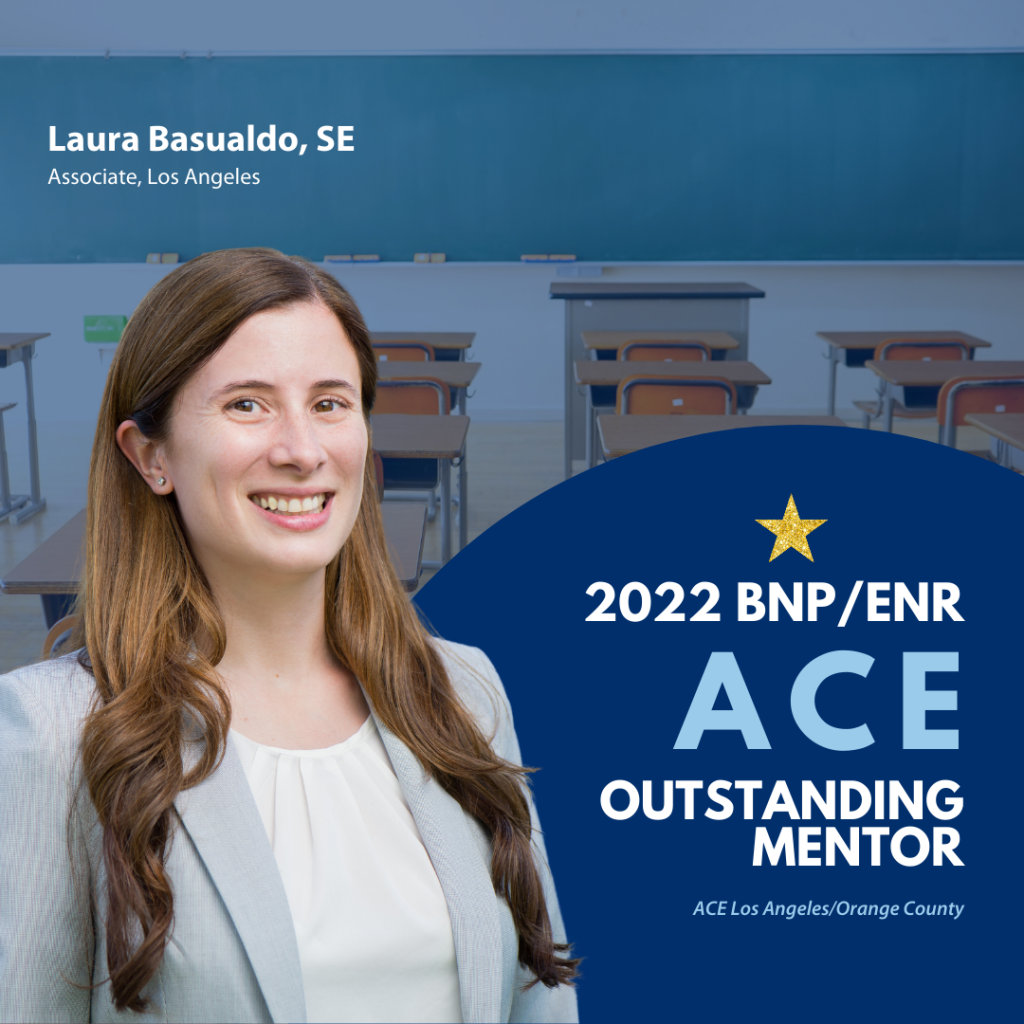 Congratulations to Degenkolb's Laura Basualdo, S.E. for being named a 2022 BNP/ENR ACE Outstanding Mentor! 🎉
Laura was selected as one of five 2022 Outstanding Mentors because of her contribution to her students, fellow mentors, and affiliates epitomize the dedication and effectiveness of ACE's 4,100-plus mentors. The ACE Mentor Program of America aims "to engage, excite, and enlighten high school students to pursue careers in architecture, engineering, and construction through mentoring and continued support for their advancement into the industry."
"Laura joined ACE as soon as she started working. She was a mentor for a few months and jumped at the opportunity to be a co-team leader right away. A few years later, she co-founded a new ACE team East of Downtown LA, which she co-led until 2020. She has overseen organizing the Trades Day events for the ACE Los Angeles/Orange County affiliate for a few years now. She particularly enjoys organizing these events since the students get to learn about the trades while doing lots of different hands-on activities, and they tend to be the student's favorite event. As a member of the ACE 2020-2021 Virtual Program Committee, she helped plan the virtual sessions during the pandemic. Laura joined the ACE LA/OC affiliate Board in 2021." (source)
"She's been a role model to me, and if I could describe what I want my American Dream to be like, it would be to become someone like her; a smart, creative, capable and energetic person in the architecture field helping aspiring students while also making a change in the world the way she does through her career." – Guiseppe (Former ACE Student)
Learn more about Laura's incredible impact as an ACE mentor for the ACE Mentor Program of LA/OC here.