Mexico City Team Visits a Damaged Hospital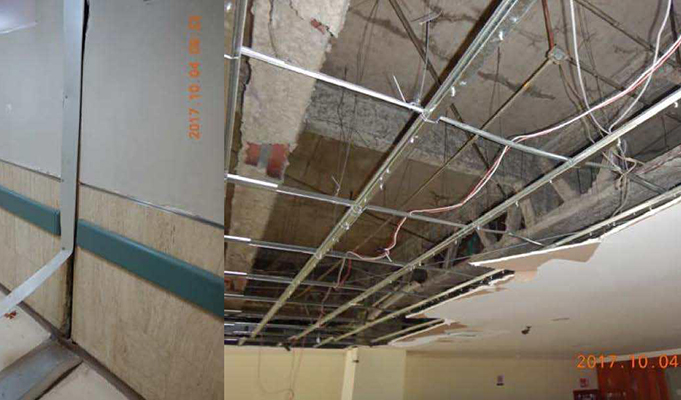 To learn from EQs, Degenkolb visited a damaged hospital located in Mexico City.  The hospital was closed after the earthquake and the patients evacuated within an hour of the event.  Built approximately 40 years ago and prior to the 1985 earthquake, the concrete wall structure handled the earthquake well, with limited damage. Often, the operation of a hospital can hinge on how its non-structural systems perform.
The hospital sustained damage to its brick interior walls and stairwells.  The elevators used to transport patients were damaged and unusable.   Made up of multiple buildings, we saw damage at expansion joints from pounding in the EQ.  In the lobby of the ED, the hospital sustained damage to its ceilings and a break in a roof drainage pipe, leading to water in the hospital.
Examining systems in the central plant of the hospital we noticed that only limited pieces of the mechanical, electrical, and plumbing equipment were seismically braced, but did not have any damage.  Piping systems within the central plant were also undamaged.  Could the hospital have had more damage if the event had been bigger or the earthquake shaking different? The Hospital will be closed for the next 12 months as they repair and return the facility to operation.