Developing a Seismic Program 101
Earthquakes pose a threat to the safety and survival of not only people but the institutions and organizations that serve them. It is critical to the longevity of these community hallmarks to act proactively against these seismic events by bolstering seismic safety and minimizing seismic risk. This can be accomplished through seismic programs—strategic plans customized to the specific safety, continuity, and growth needs of an organization.
What Does a Seismic Program Look Like?
Each seismic program is as unique as each organization with its culture, needs, and risk tolerance.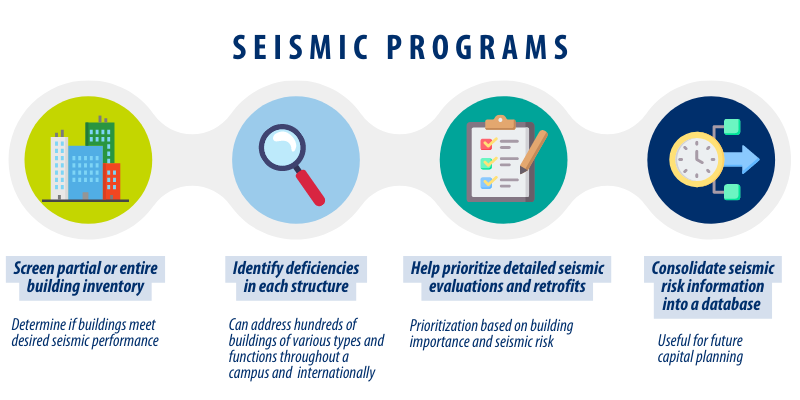 These programs may also include:
Program Management

Managing and organizing your data so that you can use it to make decisions

Development of Corporate Seismic Guidelines

Crafting language to help ensure that you are getting the performance you expect from your new and existing buildings

Pre-Lease and Re-Purchase Evaluations

Quickly evaluating existing properties for acquisition to know if they meet your safety standards

Seismic Evaluation and Retrofit Planning

Using the latest research and deep knowledge of ASCE 41 to realistically assess your buildings' performance at varying levels of detail and for any performance objective that is important to your business
Develop retrofit concepts that allow you to understand the costs of retrofits to various performance objectives

Post-EQ Inspection and Training

Train staff or retain engineers to prioritize inspections based on expected levels of damage to allow faster business resumption

A Choice of Sustainability
Before demolishing old structures to make way for new, it can be helpful to consider repurposing older buildings instead of starting from the ground up. Oftentimes, a cost comparison of a retrofit versus new construction are comparable; however, the two choices differ in terms of sustainability.
By using fewer resources, a retrofit can translate to good stewardship of a campus and preservation of resources. If you are an owner of multiple buildings falling into this category or one building of historic significance, it is important to consider that there are options beyond tearing down and building new, which can accomplish many—if not all—of the same goals.
Taking it Step by Step
Launching a seismic program, especially with an inventory of hundreds or even thousands of buildings, can seem daunting. Yet there are sized steps that can help your organization progress. The first step will be to consult a seismic expert, but there are additional considerations at this stage.
Questions to ask yourself when considering whether a seismic program could be valuable:

If you think a seismic program is right for you, you can investigate other organizations that have used this methodology, notably the Department of Veterans Affairs, the General Service Administration, and the University of California.
Contact Us
If you still have questions about seismic programs and whether they are right for your organization, you can contact us to learn more.
Holly Razzano  Education Practice Area Leader and Senior Principal