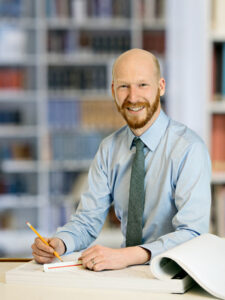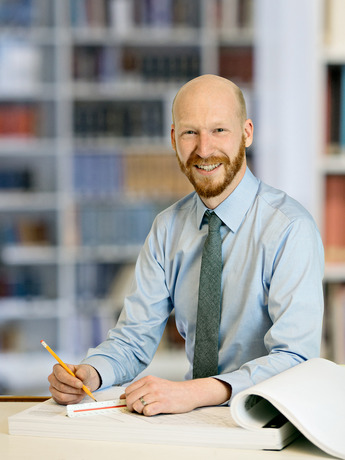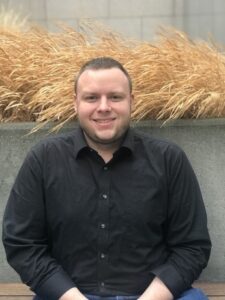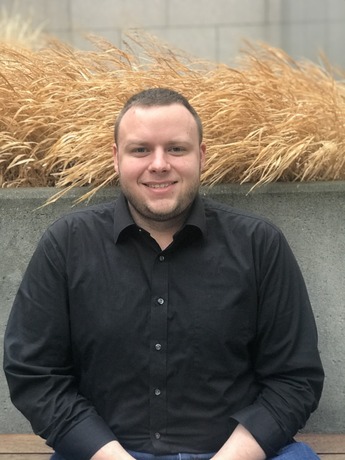 Kyle Steuck, Associate Principal    Josh Sizemore, Design Engineer
In Seattle, Degenkolb is proud to announce the promotions of Kyle Steuck to Associate Principal and Josh Sizemore to Design Engineer.
Kyle has been with Degenkolb for over 10 years and continues to build his career by mentoring younger staff internally and building his network externally. He is focused on leading the Science and Technology market for the office and expanding Degenkolb's expertise as prime consultant. He has completed large-scale projects for Boeing, the Department of Veterans Affairs, and is currently serving as Project Manager for Katerra's new CLT factory.
Josh joined Degenkolb in early 2018, after completing his Ph.D. at University of Illinois performing research on steel braced frames. He recently earned his Washington State Professional Engineer's license. Josh is focused on learning all he can about the intricacies of engineering for our seismically active region. Josh is working on projects across all of our market sectors, including: Katerra's new CLT factory, construction means and methods for the Washington State Convention Center, and the Graduate Hotel (renamed from Hotel DECA) seismic upgrade and renovation.
We recently caught up with Kyle and Josh to learn more about their experiences in engineering.
What have you learned throughout your career that has made the biggest impact on how you work on projects?
Josh – I've learned to take advantage of the resources of the people throughout Degenkolb. The willingness to share expertise is invaluable.
Kyle – Every building is different. I learned that serving people is more important than what goes into a building. It's all about the people.
What do you see causing the biggest impacts on design and construction?
Kyle – The software industry is way ahead of where we are. It is beginning to trickle down by offering more automation or automated design.
Josh – Virtual reality! Having the opportunity to put yourself, your client, and the public directly into the building model allows for instant user feedback. It can show you conflicts and issues we aren't catching right away now.
Kyle  – A major concern, especially in Seattle, is the lack of skilled labor in construction. The push for modularization in every market is driven by this.
Josh – Another concern is building codes. There is a growing recognition that codes don't meet the public's perception of how buildings will react in an earthquake. I see a focus from jurisdictions for stronger design requirements. The U.S. Resiliency Council's Certification program, or something along those lines, will be asked for directly by the public, like LEED. We need to push beyond the current codes.
To read more of the interview with Kyle and Josh, click here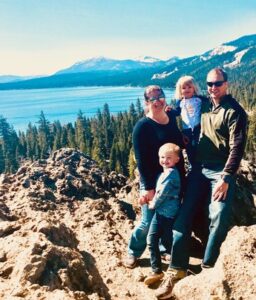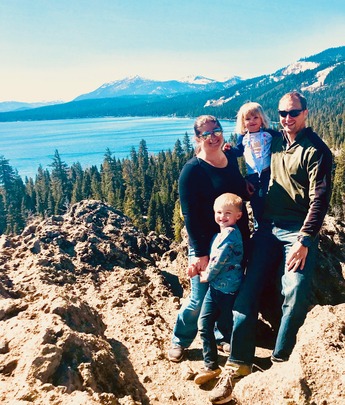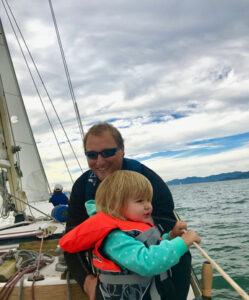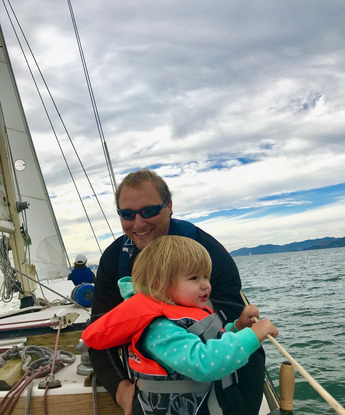 Degenkolb's newest Principal, Devon Lumbard, began his career in Portland. Originally from California, Devon was drawn to the Pacific Northwest's countless outdoor activities and serene countryside. After enjoying the Oregon lifestyle for 10 years, professional and personal circumstances led him back to California and Degenkolb's Bay Area operations.
Living in Grass Valley, Devon would commute to the Bay Area where he stayed on a sailboat during the week before heading back to his family each weekend. In that time, Devon enjoyed working with numerous Degenkolb Principals and forging strong relationships. With budding opportunities and increased business in Sacramento, Devon leapt at the opportunity to work closer to home and establish a new Degenkolb office.
The Sacramento office opened its doors in May 2018. Led by Devon, Degenkolb has started building local relationships and expanding clientele in the Central Valley region. He is passionate about bringing the culture and expertise of the firm to the new region. Devon's practice is primarily focused on healthcare community work and forensic engineering and he has started working on expanding those practice areas in Sacramento.
He is currently leading a small but growing group of engineers as they work on more than $1M in Sacramento based healthcare and forensics work. He is also quickly establishing roots in the community, joining the River City Rowing Club and training with the crew for the 2018 Masters National Championships and hopefully the 2018 World Rowing Masters Regatta.
For more information on the Sacramento Office, contact Devon Lumbard at dlumbard@degenkolb.com or 510.250.1260.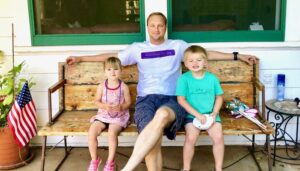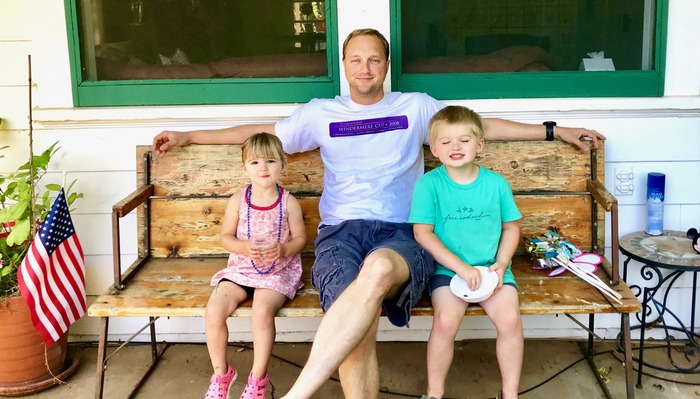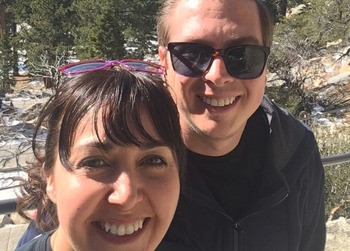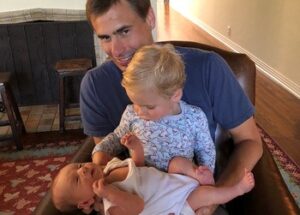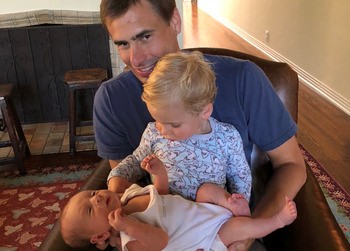 Jeff Roi out for a hike with his wife.                                                        Sandy Hohener enjoying time with his children.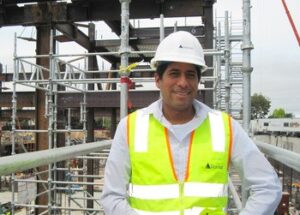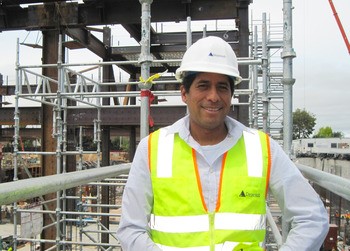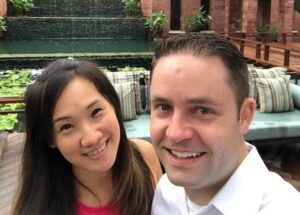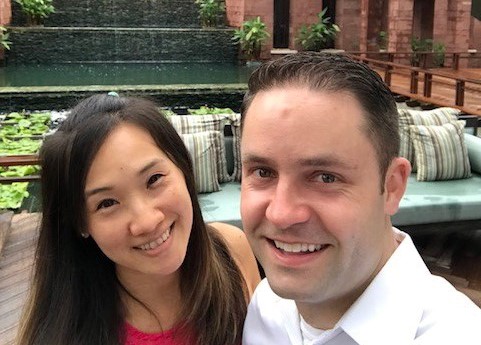 Alvaro Celestino visiting a construction site.                                               Chad Closs traveling with his wife in Thailand.
Jeff Roi, Associate, Los Angeles
Jeff began his Degenkolb journey as an intern in 2005 and joined full-time in 2007 after receiving his masters from UCLA. He has worked in market sectors including healthcare, civic, and manufacturing. Most recently he has been a crucial component in our work with many cities throughout the Los Angeles region, by conducting surveys of seismically vulnerable buildings and assisting in the development of their seismic ordinances. When Jeff isn't busy at work he can be found hiking with his family and honing his Brazilian Jiu Jitsu skills.
Conrad "Sandy" Hohener, Associate, Los Angeles
Sandy started in Degenkolb's San Francisco office in 2009, and moved to our Los Angeles office in 2015. One of his most memorable projects has been the Anderson Collection Museum at Stanford University. The project served as a way for him to pay homage to his time as a student at the University and allowed him to make his own mark on the campus. Sandy is a lover of golf, and dreamed of being a golf course designer as a young boy. Now an established structural engineer, he heads to the golf course whenever possible. 
Alvaro Celestino, Associate, San Diego
Since starting at Degenkolb in 2008, Alvaro has worked on significant projects in varied markets, including healthcare, higher education, federal, and historic. The new 520,000 square foot Lucile Packard Children's Hospital at Stanford University is one of his most prominent projects to date. Outside of work, Alvaro actively participates in projects to raise community awareness of seismic risk. He volunteers at local elementary and middle schools, and tutors students with special needs in North County San Diego. During the summer months, he can be seen enjoying quiet afternoons at the beach with family and friends.
Chad Closs, Associate, San Diego
Chad recently celebrated his ten year anniversary with Degenkolb. His most recently completed project is the new San Diego County Crime Lab, which includes a 24' tall basement housing a ballistics shooting range, a large bullet recovery tank, and storage for temperature sensitive evidence. Unique to this building, these facilities are not something he typically encounters! Chad is a world traveler, having been to 17 countries in the last decade alone. On one of his trips he spent time volunteering in Uganda with professionals from all over the world to help design an agricultural college.