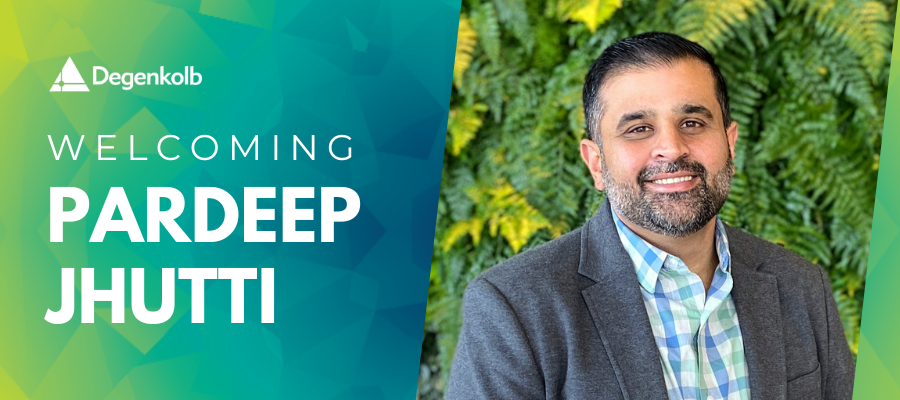 Degenkolb welcomes Pardeep Jhutti to the firm as Principal in the Oakland office. Pardeep joins the firm with nearly 18 years of experience as a structural engineer.
Pardeep's engineering career began when he graduated with a master's degree in structural engineering from Stanford University in 2005.  This marks his second stint at the firm. During his first years at Degenkolb—from 2007 to 2014—he was an integral team member of high-profile projects such as the Sutter Health CPMC Van Ness Campus project.
While at another firm, he pursued and executed project work in several market sectors, including life sciences, mixed-use, healthcare, and K-14 education.
About returning to Degenkolb after eight years away, Pardeep said, "Degenkolb's forward-thinking vision and leadership in the industry resonates with me.  I think the firm's evolution over the years along with my own has made this a perfect fit.  I'm excited to be able to continue serving my clients while leveraging the firm's extensive design knowledge, experience, and resources. I'm thrilled to be back home."
Pardeep looks forward to advancing our Science & Technology, Healthcare, Education Practice Areas, and more. With skill in embracing new technologies, delivering integrated projects in fast-paced environments, and working on a diverse range of projects, he will apply his abilities as a powerful collaborator and pragmatic problem solver to project teams and the wider firm.
"Having former employees return to the firm is a great opportunity for Degenkolb. Since Pardeep left Degenkolb he has grown his leadership, technical, and management skills which will bring significant value to our clients.  We are looking forward to integrating Pardeep's expertise into the practice and having him be a part of shaping our future," said Stacy Bartoletti, CEO.
Welcome back to the team, Pardeep!

A central utility plant rarely takes the spotlight in terms of design but is center stage when it comes to maintaining critical campus operations. Degenkolb and our partners recently completed two central utility plants for UC Irvine—an HCAI and non-HCAI facility—that are both state-of-the-art in terms of operational and energy efficiency, and award-winning in design. The HCAI CUP replaced an undersized plant, while the non-HCAI CUP consolidated several existing rooftop systems. The two CUPs serve the existing 411-bed UC Irvine hospital, and will provide service to the new, 300-bed expansion hospital tower currently under construction—along with infrastructure buildout for future expansion projects.

The new HCAI plant replaces an undersized plant and includes a 3000-ton chiller with visually screened, roof-mounted cooling towers, located on the same footprint as the existing facilities. This design frees up valuable real estate in the already limited existing space. The plant's 24/7 operations required the design of temporary mobile facilities to maintain service during demolition of the existing plant. Temporary, air-cooled chillers, stand-by generators, and temporary flexible piping provided chilled water service to the campus.
The design-build team worked closely to navigate around a congested campus site, manage complex tie-ins with existing utilities, and ensure minimal disruption with zero unplanned outages. The team's improved design approach saved a substantial amount on yearly operational costs by optimizing daily operations and improving overall energy efficiency. Additional electrical infrastructure was included to accommodate for future added loads without requiring planned outages. The building design and landscaping provided an aesthetically pleasing screening for the chiller plant which was consistent with the campus' Physical Design Framework.

The new, non-HCAI plant consolidates several existing rooftop systems for non-HCAI buildings across campus, and like the HCAI plant, utilizes stacking and screening to maximize space along this busy pedestrian corridor. A new 2,000-ton cooling tower was installed on the roof with accommodations for a second cooling tower to service future chillers. The plant is located near a hospital front entrance, which also provided some unique design opportunities resulting in an exposed lateral system and an open storefront concept to highlight the building contents.
Due to the presence of adjacent HCAI tunnels and a maze of underground utilities at the site, Degenkolb used 3-D modeling software to coordinate potential obstructions and design a foundation system to steer clear of potential underground conflicts.
On both projects, Degenkolb actively collaborated with the general contractor, trade partners, architect, and other design consultants to align the project budget with UC Irvine's program and utilized pull planning to manage the schedule and coordination of demolition, temporary facilities, and tie-ins with the existing active utility plant. The result? A couple of state-of-the-art central plants that operate with modern mechanical systems and in accordance with the UC Sustainable Practices policy—and also look really great, too.
Team Members:
General Contractor – Kitchell
Architect – Devenney Group
MEP – tk1sc
Awards and Certifications:
Non-HCAI Central Utility Plant, DBIA National Award of Excellence – Industrial/Process, 2020
Non-HCAI Central Utility Plant, DBIA National Award of Merit – Industrial/Process, 2020
Non-HCAI Central Utility Plant, ENR California Energy/Industrial Best Project Award, 2020
Non-HCAI Central Utility Plant, LEED Silver Certified
Non-HCAI and HCAI Central Utility Plants, SEAOSD Award of Merit in Infrastructure, 2020
Click here to view our DBIA award submittal and learn more about the structural design on the non-HCAI plant.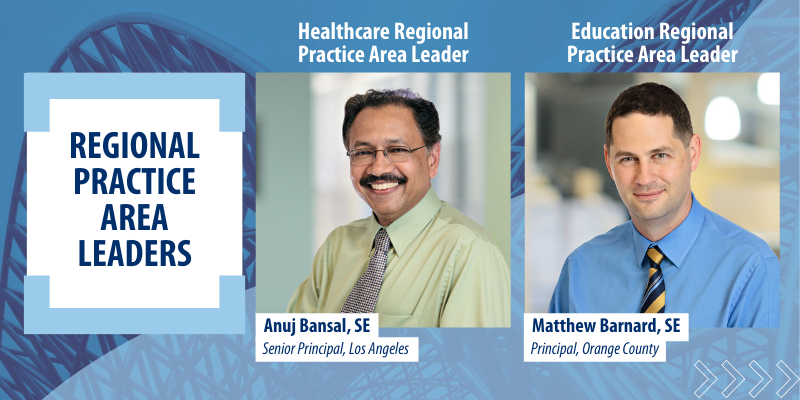 Degenkolb Engineers announces the formalization of Anuj Bansal, Senior Principal, and Matthew (Matt) Barnard, Principal, into the roles of Regional Practice Area Leaders for Degenkolb's Healthcare and Education practice areas respectively. The formal appointments reflect years of working informally in these roles. The Regional Practice Area Leader role designates someone in a region who in conjunction with the Practice Area Leader works to advance market goals and strategy firmwide. Both Anuj and Matt, as Regional Practice Area Leaders, serve the Southern California marketplace.
"Around 2018, we set a strategic goal to focus on developing work in the Education practice throughout Southern California. Matt's leadership has been a key reason for our success delivering on University of California and community college work in Southern California. We see formalizing this role to continue to grow our presence in the Education market and to develop future resources for our education clients," said Holly Razzano, Senior Principal, Education Practice Area Leader.
Jorn Halle, Senior Principal, Healthcare Practiced Area Leader said, "The Healthcare Regional Practice Area Leader title is recognition of the leading role that Anuj has in expanding the Healthcare Practice in Southern California. We can provide more in-depth service to our clients and deliver more complex projects regionally while leveraging firmwide experience and resources. Anuj has developed a highly technical and collaborative team in Southern California, focused on delivering healthcare projects."
As a Senior Principal in the Los Angeles office, Anuj Bansal skillfully manages complex projects for diverse clients, most notably in the Healthcare Practice Area. His collaborative management style enables him to deliver the most cost-effective and technologically sound solutions for new design and seismic retrofit projects.
Matt Barnard serves as a Principal in the Orange County office. His portfolio includes a wide range of experience, with a strong emphasis in the Education Practice Area. He is actively engaged in work for multiple campuses of the University of California and is focused on broadening the depth and reach of the practice.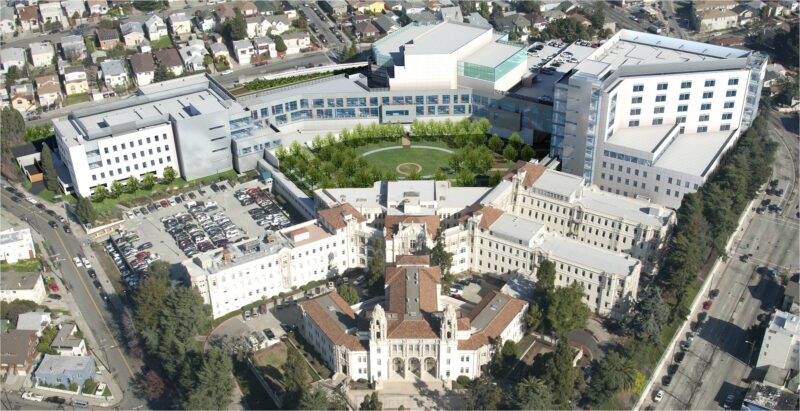 Before a critical building—like a healthcare facility—can open its doors to patients, medical personnel, researchers, and others, a design team is hard at work making sure the ideas can become a reality. A crucial step between design to opening day is construction engineering. Known at Degenkolb Engineers as CE for short, construction engineering facilitates the design of a structure by—sometimes literally—providing the necessary support which brings a design to life. Although CE serves to facilitate the design, its importance to the success of the whole project cannot be overstated. Robert Graff (Principal, San Francisco) knows this reality well. "Every project is different and shaped by the site itself." Whether it's accounting for existing adjacent structures, the unique geography of a lot, or every stakeholder involved, CE is there to find a solution.
When building Highland Hospital's new acute care tower in Oakland, CA, the design team encountered a challenge with the Satellite Building and a significant grade change from one end to the other. In addition, there was an existing building scheduled for demolition that partially retained this very grade change. Degenkolb was providing SEOR services for the new hospital tower as well as bridging documents for the Satellite building, but was also contracted to provide construction engineering services for the entire project. By engaging our CE team early, all involved were able to find an economical, efficient way forward. The solution: a three-story retaining wall—comprised of new shoring wall elements and existing building walls reinforced with new tie back anchors—that separates the Satellite building from the hillside. By employing this method, the building no longer had to serve as the retaining wall, which proved to be more cost-effective, improved the seismic performance of the building itself, and repurposed parts of the existing building to facilitate the new Satellite building. Additionally, this allowed the architects to have the building "be what it wanted to be," preventing unnecessary architectural sacrifices that could affect the design's vision.
Highland Hospital also required the demolition of wing buildings to make the new acute care tower. The CE team planned for a selective demolition and shoring of part of the adjacent structures, which facilitated a more streamlined process before the foundations were laid. Thanks to these decisions during the excavation shoring, temporary building support, and historic building monitoring, the 315,000 square foot, nine-story, 169-bed acute care tower came to life with minimal delays.
Stories like these illustrate how costly design decisions requiring resources and effort can instead be spent in the CE world where creative solutions abound. In the case of Highland, the CE and structural design team were one of the same, run by separate project managers but under the same roof at Degenkolb Engineers. Often the design firm hires a subcontractor that then hires another subcontractor engineer to implement the shoring work, introducing them to the project far later in the design process. "The earlier CE can be in the room, the better," Robert adds. Not only does earlier involvement prevent potential issues down the line—including making things more challenging and costly to build or even triggering a possible re-design—but can allow for ideas on alternative ways forward to bring stakeholders' vision to life when creating the next world-class facility.
Robert adds that "the level of understanding, communication, and coordination by having it run out of the same office is happening organically rather than being forced." This integrated approach has many benefits, especially when communication and coordination are key to CE's success. Although the integrated CE approach is a rarity with facilities of Highland's size, comparable projects focused on critical facilities can thrive along this path, making every stakeholder and member of the design team satisfied with the result they are delivering to the community.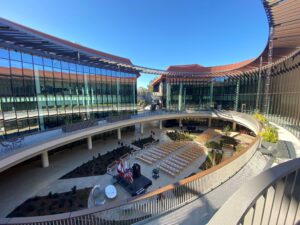 Sometimes building walls can break down others. This idea inspired the creation of Stanford University's new state-of-the-art interdisciplinary research center known as the ChEM-H/Neuro Research Complex. Serving as the new home base for two existing institutes on the Palo Alto campus—Stanford ChEM-H (Chemistry, Engineering & Medicine for Human Health) and the Wu Tsai Neurosciences Institute—the complex unites the brightest minds in chemistry, engineering, biology, and medicine to collaborate in unlocking the mysteries of the human brain under the same roof.
The world-class 235,000 square foot complex addresses a variety of long-term challenges in human health across its 40 laboratories, shared research facilities, and meeting spaces. Stanford ChEM-H researchers focus on molecules in order understand life at a chemical level and improve the well-being of the individual and species. Findings reveal ways to cure and prevent disease as well as solve long-range issues that affect humankind. Recently, researchers discovered a never-before-seen biomolecule dubbed glycoRNA. This biomolecule could play a significant role in the biology of all living things and may even hold the key to possibly treating various autoimmune diseases.
The Wu Tsai Neurosciences Institute houses a range of disciplines, including cell and molecular biology, electrophysiology and behavior, imaging and microscopy, human neuroscience and engineering, and theoretical and computational neuroscience. Its researchers are dedicated to "understanding how the brain gives rise to mental life and behavior, both in health and in disease (source)."  The Institute is at the forefront of neuroscientific exploration during a critical moment in the field as new technologies transform the way we study the brain, generating groundbreaking insights about the most complex organ of the human body. Several recent findings include uncovering how rebooting an immune cells' metabolism can protect a mice's aging brain, development of a new brain-computer interface with the fastest typing speed to date, and answers behind the mechanisms of autism.
Additionally, the complex features the Innovation Medicines Accelerator (IMA), a group which accelerates the translation of Stanford research discoveries into new medicines and strives to expand the wider community's knowledge of human biology. The group seeks to overcome barriers to treatment for everything from cancer and the recent COVID-19 pandemic to rare disorders that are often less researched.  The accelerator is one of four on the campus which aim to achieve Stanford's Long-Range Vision. "Our Vision amplifies Stanford's contributions through a new model for research universities: accelerating the creation and application of knowledge to tackle the world's great problems, anchoring research and education in ethics and civic responsibility, and promoting access and inclusion (source)."  The collaborative spaces in the new complex serve to amplify this purpose and the academic community's impact on science, education, and knowledge.
Degenkolb Engineers performed structural engineering services for Stanford University's ChEM-H / Neuro Research Complex along with the design team: Ennead Architects LLP, Whiting-Turner Contracting Company, and others. In designing the innovative building, collaboration was at the forefront of the efforts by Degenkolb and the wider team to ensure a flowing, cohesive space without seismic joint or shear wall interruptions. Nearly a year later, the institute, thanks to its shedding of the traditional physical and figurative barriers in academic research, continues to push the limits of human discovery and the forge the future of science for the benefit of all.