Out with the old, in with the new
Degenkolb launches an updated website with refreshed company identity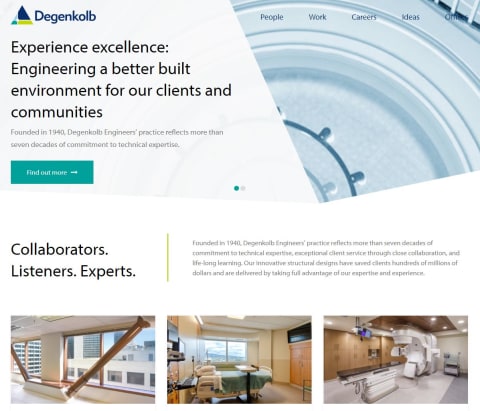 Thank you to our partners at Moonstone Interactive for the design and development
With a new brand identity launch in 2016, bringing a refreshed logo, updated colors, and multiple updated offices to match, Degenkolb started brainstorming the next phase – a new website.
The new degenkolb.com features expanded bios and project portfolio sections, "Day in the Life" videos, and new educational materials reflecting Degenkolb's 75+ year history of supporting our people and helping our clients.
Wanting to showcase the firm's expertise at all levels, we asked all of our employees to submit bios and personal photos. Their answers to short, fun questions like favorite sports team or preferred way to commute to the office, let our employees' personalities shine.
Some of the engineers took their showcase a bit further and provided GoPro™ recorded videos of their work day in action. A Day in the Life shows what it really means to be in one of our offices from structural calculations, to site visits, and even a bonus Degenkolb softball game!
In addition to featuring more employees, we have also added more educational content. The Seismic Ordinances page is tracking the development of community-based seismic resiliency programs throughout the West. Here you can find information on the types of buildings affected by local ordinances and information as we know it about current and future ordinances.
And the site keeps favorite sections like Job Openings and the informative blog now found in Ideas.
Head over to the website and check out the new degenkolb.com today!